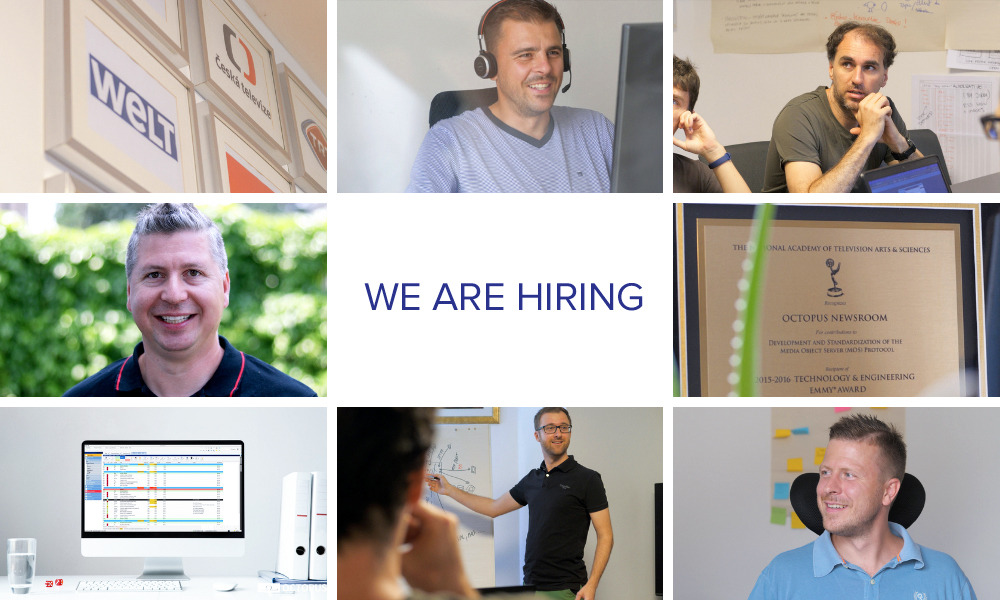 We would like to welcome you as Octopus' National Sales Director for North America!
OCTOPUS Newsroom is one of the leading newsroom computer system (NRCS) vendors on the broadcasting market, operating globally for more than 20 years. We develop and provide software essential for any news team – enabling the users to gather feeds from various resources, plan events, post to social media, and most importantly, manage every piece of information for news broadcasting. The company is headquartered in Europe and we have a very strong and diverse customer base in the USA and Canada.
We are seeking an enthusiastic and creative Sales and Business Development Manager responsible mostly for the North American and potentially Latin American markets. Previous experience from the broadcasting industry would be a major asset to us, but we are happy to get you familiar with this exciting and ever-evolving environment!
Your responsibilities in the assigned region would be to:
Maintain exceptional relationships with the existing customers
Identify and develop new business opportunities
Work closely with local partners (broadcasters, system integrators, and technology partners)
Manage software maintenance contracts' renewals
Prepare proposals for new and existing customers
Attend various trade shows (both as visitor and exhibitor)
Travel regularly to existing and potential customers
Organize and attend proof of concepts (POC), open houses, online or on-site product demos etc.
Work closely with the Marketing Manager on the marketing strategy
Cooperate occasionally with other sales managers and other team members on various tasks
Develop a high level of technical expertise regarding our products and services Meet and exceed agreed-upon KPIs such as revenue goals, renewal rates, etc. in-depth knowledge of the internal systems related to sales and contract renewals (Confluence, Jira, CRM, etc.)
Key requirements/preferences for the role are:
Minimum 3 years of B2B sales experience
Experience from the broadcasting industry is highly desired
Native English speaker with a valid work permit
Additional knowledge of Spanish would be a major advantage
Capacity to travel on a regular basis. (therefore you must be fully vaccinated against COVID-19)
Advanced knowledge of the Microsoft Suite (Word, Excel, Outlook) is required; experience with CRM systems preferred
Further technical / IT skills would be an advantage
Having a goal-oriented and self-motivating mindset
Ability to work independently with a little supervision High learning agility and ability to think critically
Why should you consider applying:
The role offers a unique opportunity for the candidate to put his/her own stamp on how the sales activities are carried out in the assigned region.
Gain experience in an exciting niche market segment
Enjoy the work-life balance – work from home with flexible working hours
Have the benefit of traveling worldwide
Benefit from a specific company culture – We are a rather small, but well-established European firm enabling you to experience freedom in your everyday business activities.
Competitive salary and benefits
Get to know your new colleagues!