Octopus Newsroom's new flagship Newsroom Computer System (NRCS) Octopus 11 is ready for rollout after making a big impression at trade shows across the globe. Current Octopus NRCS customers will find intuitive adjustments to the platform without impacting the familiarity of the overall product.
Here are 11 reasons why you should consider upgrading to Octopus 11 as soon as possible.
#1. It's easy
Octopus 11 isn't a complete makeover of the system you've come to trust. It takes minimal downtown – a few hours at most – to get all the benefits of the new system. All of the improvements are provided in an easy-to-navigate list. You won't even need to schedule additional training sessions to make the transition. The Octopus Newsroom team can work on your timeline and time zone to make the best accommodation for the upgrade.
#2. It's free for current customers
You don't need to worry about an unaccounted-for budget line item because those with a valid support contract get the update and information about Octopus 11 without any cost at a station or corporate level.
The interface and layout have been slightly adjusted for more efficient content creation across various platforms while still staying in the Octopus main window. For those working in a multi-monitor environment, more maneuverability is available to have multiple Octopus windows open at a time.
As a standard, icons are easier to see, and layouts just make more sense. You haven't lost the flexibility you've come to love about the system. You have gained a better way to organize your workflows, whether working in a story-centric or rundown environment.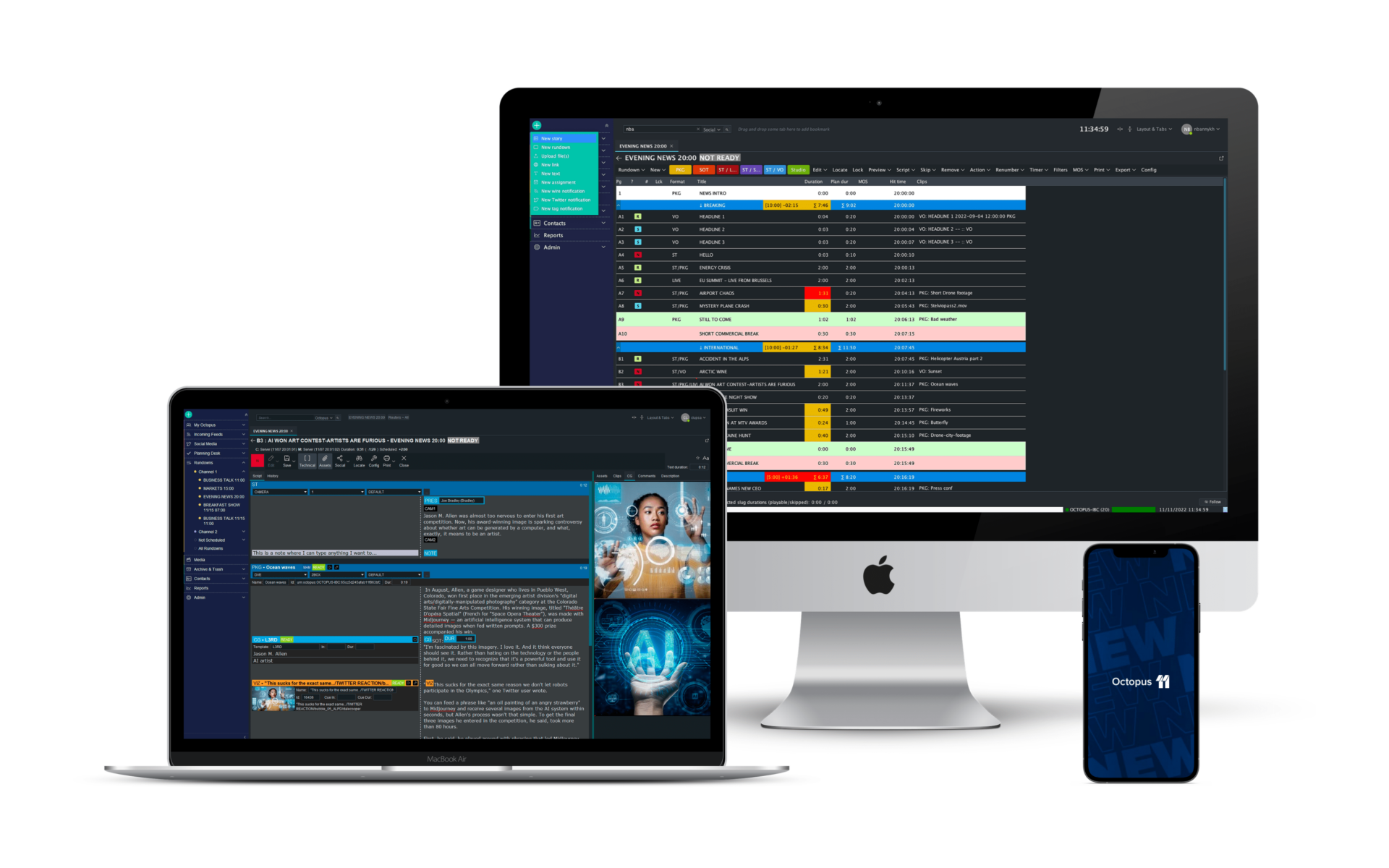 #4. It's easier on the eyes
It wouldn't make sense to create a system based on one workspace without creating a layout that is easier on the eyes. The reimagined interface also has improved color coding for different assets and a dark mode to reduce eye strain, especially in dark environments like a control room or edit bay.
Icons and menus adapt to the color change without losing the familiarity of your most used hot buttons.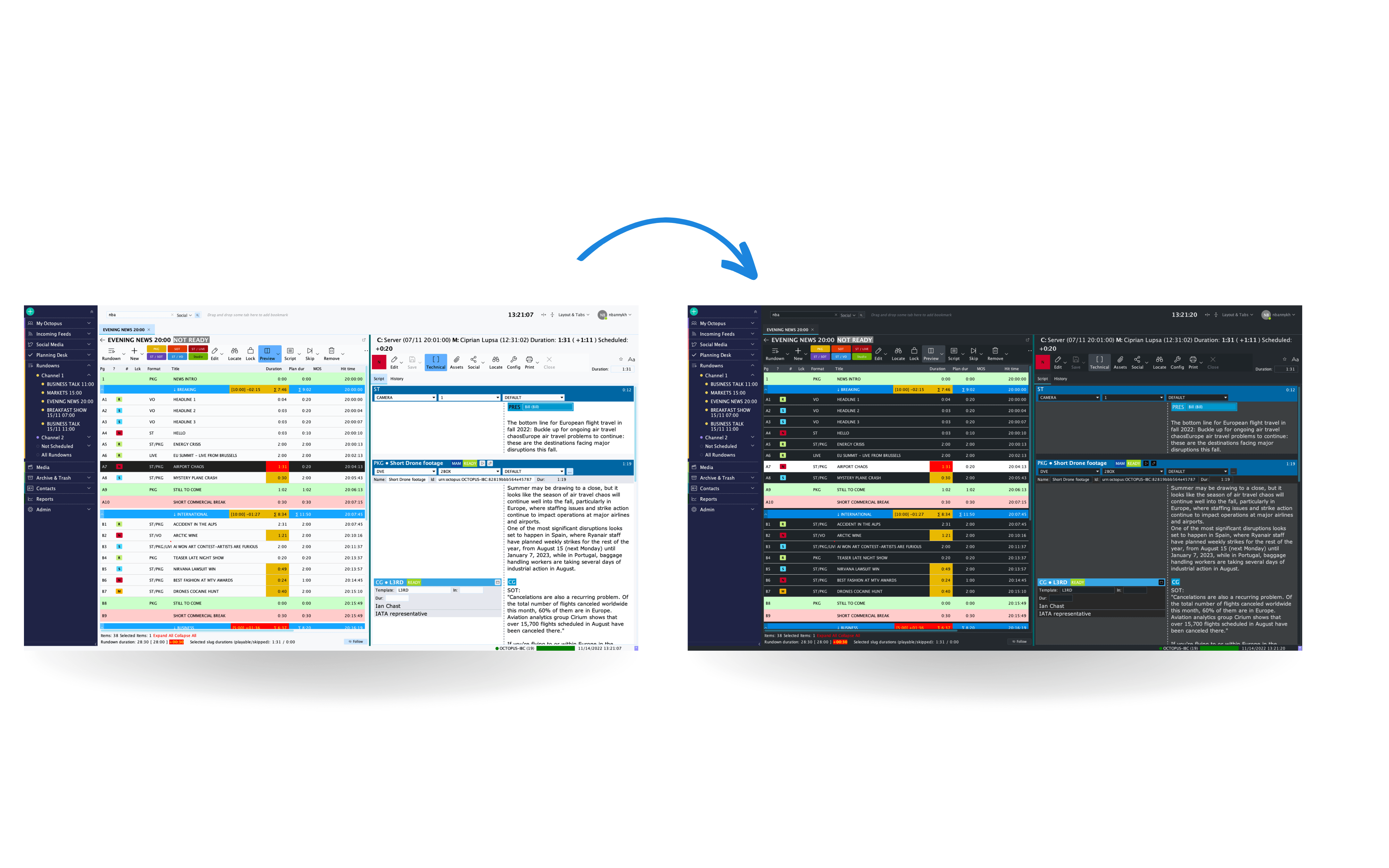 #5. It's better for scripting
Octopus Newsroom wanted to improve the scripting space to still accommodate MOS-heavy environments but also create a better flow of information for all system users.
The header area of the script display has been greatly minimized to offer more scripting space on a screen. We heard you say the checkboxes weren't working for you so that space is now put to better use in the routine workflow with revamped icons.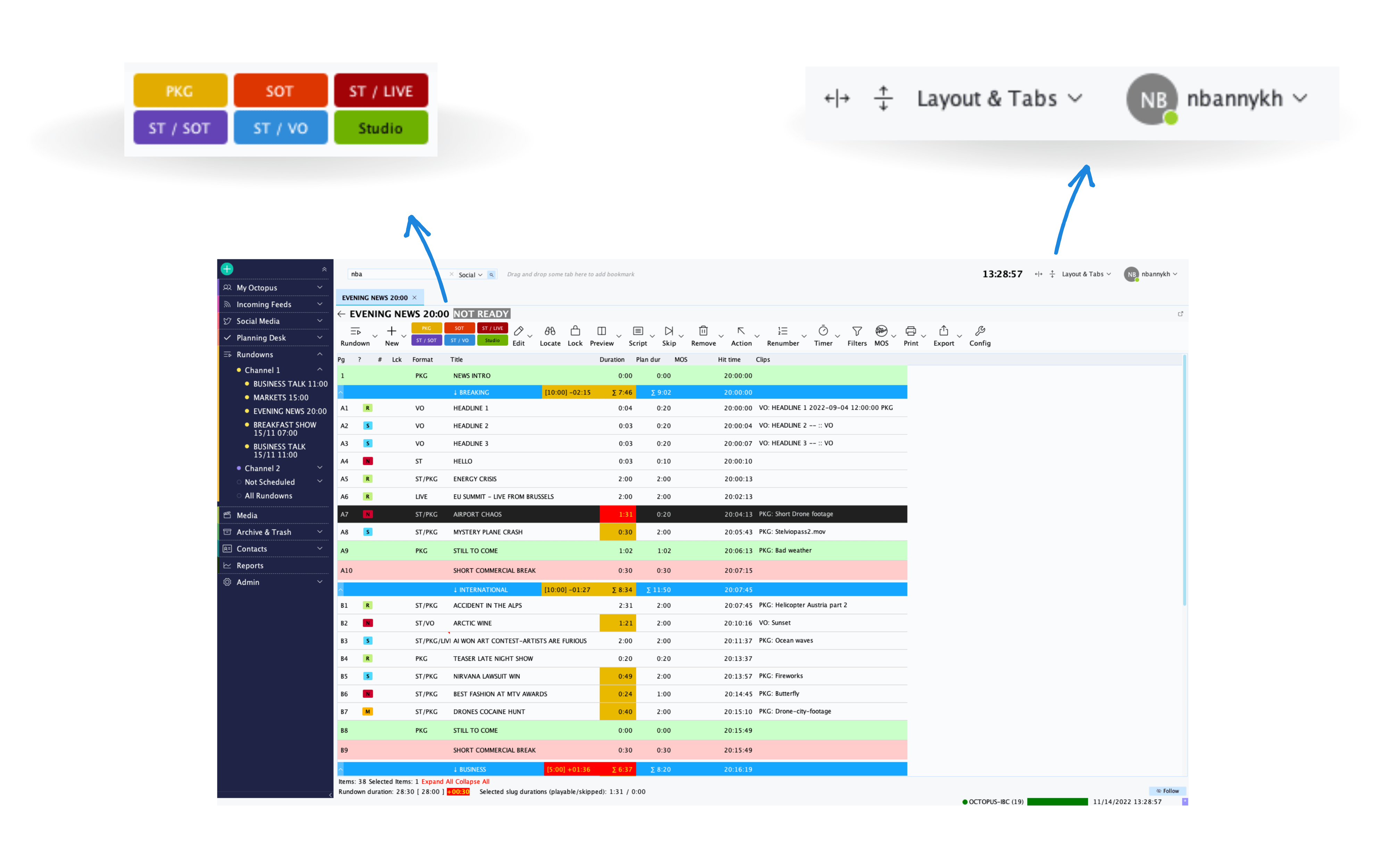 #6. Improved quality control
Quality control gets a boost with the spellchecker now highlighting errors without being in edit mode. With many outlets using the scripts as closed captioning, you now have more eyes able to see errors and quickly fix them.
New adaptions in the character generator controls allow users to change a series of CGs or just one instance of CG with one-click adjustments instead of adding another element. Not only is it faster, but it appeals to other workflows or dayparts needing that same graphic. Fewer CGs to type in reduce the risk of errors.
You no longer have to go into the guts of a system to make a simple adjustment to CG templates, whether accommodating a new logo, time/temp bug, or just tweaking the look. Users can make minor edits in synchronized CG templates. Now it is possible to change the position of the fields in the template and set the template background.
#7. It's planning enhanced
Feedback from some of the busiest assignment desks and planning managers worldwide worked with us to improve the performance of the planning functions. The new layout, mixed with user groups and individual customization settings, gets information to the right people but doesn't bog down the whole staff with unnecessary information.
Rundown forms can be adapted on a story assignment basis, not just a rule for the entirety of folder entries. Attachments to planning calendar items are now visible on the main screen, removing an additional step to view them. You can also print an assignment element with all attachments in Octopus 11.
#8. Story-centric workflow accommodations
While the system is designed for easy navigation between content areas, now a color-coding system allows folders to be clearly marked and stories assigned to those folders. The color-coded transparency story as it goes through the planning rundown, active rundowns, or archived rundowns.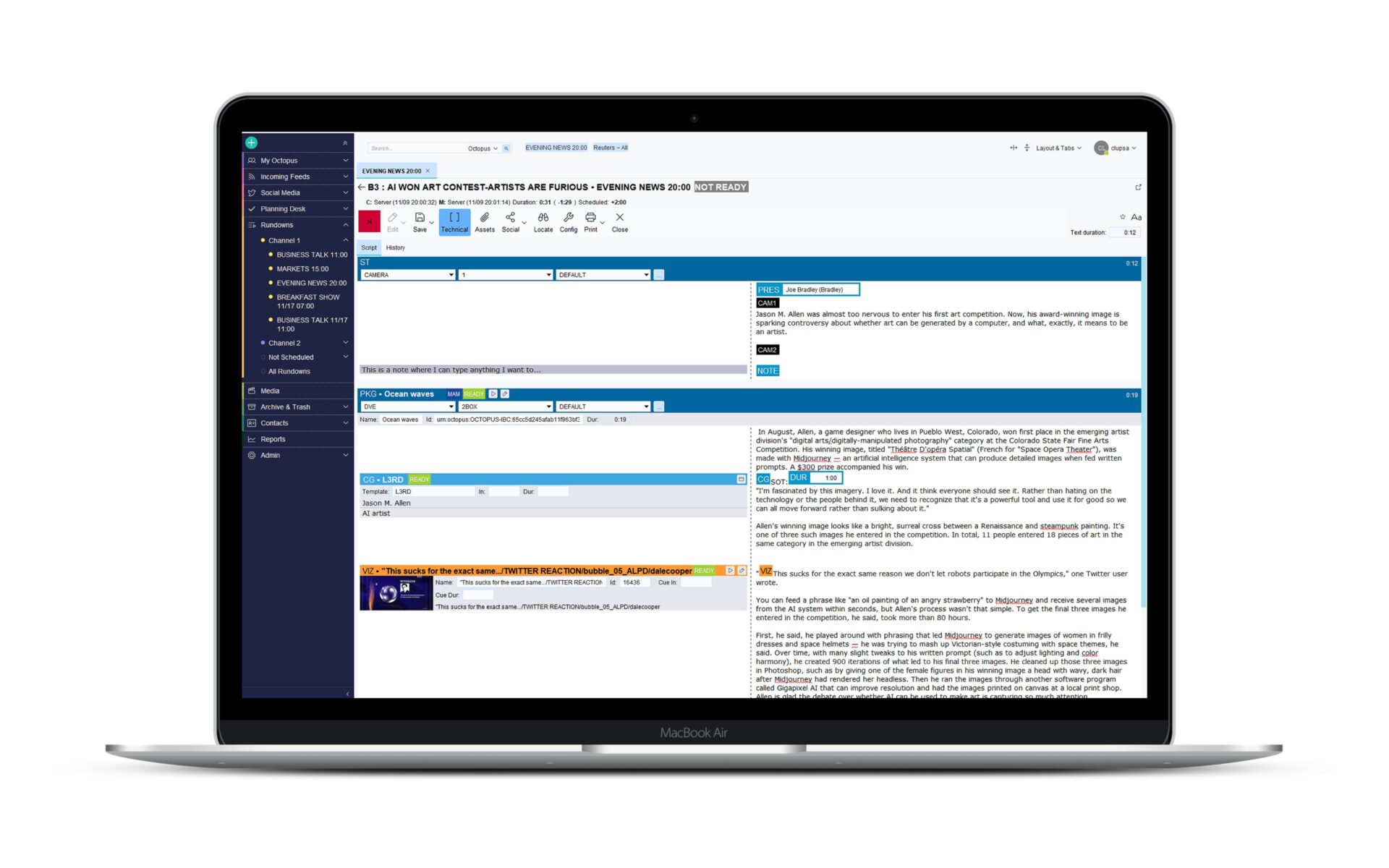 #9. It's the "new normal"
Octopus' team of experts collaborated not only to create an interface based on the needs of real users – like you – who push the system to its maximum benefit but also to cater to the "new normal" needs of efficiency and remote work. Our forward-thinking design serves cloud-based systems as much as on-premise. We've cut the cords to third-party vendors and can integrate all of your systems into one workspace. The upgrade creates more flexibility in key functions while still allowing custom design elements at a local level.
#10. It protects important content
With a system this versatile, you'll have more users than before getting into the different elements. Users with appropriate access can protect a form from being manipulated, moved, or accidentally deleted. Preserve your content and never again ask, "Where did that story go?" Scripts can now include a variety of notes, copyright information, embargo limits, and other critical notes for future users without appearing in the teleprompter. You have expanded control of how to get the full information of a story to your MAM without risking unnecessary copy popping up on the screen or in closed captioning.
#11. It's your ideas put into action
Octopus Newsroom's adaption to customer feedback breaks the NRCS mold. Octopus 11 was born in the challenging pandemic circumstances as remote, and hybrid work systems became critical to production workflows. We heard from our customers worldwide that distancing and connectivity became equally as important. Based on specific wants and needs, we expanded options to whatever your workflow needs and expanded to all your served platforms. These adjustments were made largely in part by people like you who use the system daily, so you know the changes aren't cooked up in an Octopus lab – it comes from real people wanting a smoother workflow.
Schedule Your Upgrade Today
Octopus 11 also brings more administrative functions to make printing and archiving easier. Contact your Octopus representative today to see what Octopus 11 can do for your workflow. This isn't an overhaul of the system you use daily; we can't stress that enough. It is enough of an improvement that you'll realize the benefits within the first week of use.