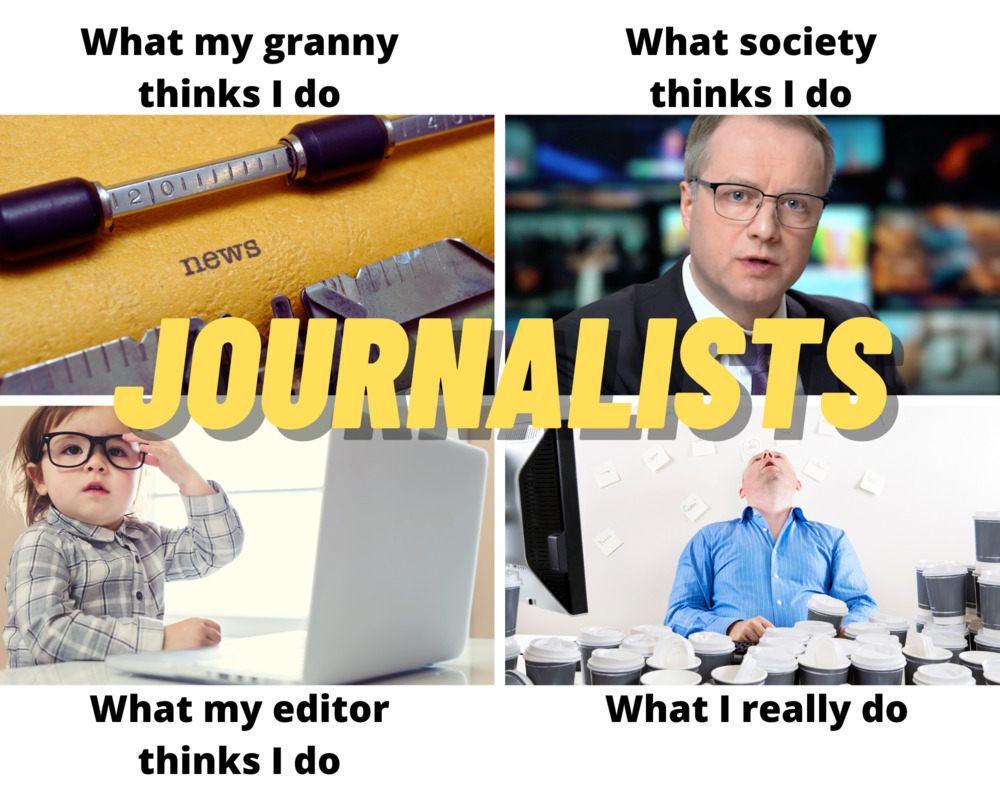 To all the journalists out there!  
After five cups of coffee, has it occurred to you, why are only 24 hours in a day? I have seen many journalists in the same scenario as the image above, tired and often high in caffeine. The work of a journalist requires talent, as well as the simplification of the technical processes that allow you to shift focus on what really matters: keeping the audience informed. Thus, speed and automation are crucial characteristics in an industry that never sleeps. For over four years, I have been hands-on newsrooms helping to elevate their news production worldwide. From my experience, I have compiled the following 7 tips and tricks that will allow you, journalists, to create stories quicker, reduce workload, and overall make your lives a lot simpler. 
1) 

We are all in this 

together 

 
Collaborative planning 
Finding the right tool to manage editorial planning is the first key to success, especially if your staff is spread across the country or around the world. Find solutions that enable you to collaborate with your team without interfering with each other's work. Start by using collaborative tools that permit several users to plan and work on a single element (story, topic) simultaneously. For example, you may be working on the script while a co-worker is updating visuals for a story, and another colleague is organizing all production cues. Feel free to attach images and clips, write comments for your colleagues, and set deadlines for the stories.  
2) 

Push notifications to the next level

 
Notifications and messages  
Notifications are not only used to find out whose birthday is today or how many likes you've got on your holidays post. At work, notifications allow you to get alerts regarding your and other's activities. You want to set up notifications in a way that you will not miss any update on content assigned to you, and to receive them in the platforms you use the most. Try establishing alerts for within your newsroom, and emails or mobile app notifications according to your preference. In this way you will be able to know exactly when valuable data from wires is received, if your organization has been mentioned in an important social media post, or if your boss has assigned you a new piece to work on.  
3) 

Knowledge is power 

 
Advanced search capabilities 
To avoid becoming the auntie spreading fake news in the WhatsApp chat, boost your ways to get information. As such, you want to use advanced search capabilities to explore within your own information archives as well as navigate other data outlets.  
Inside your newsroom system, you want to be able to explore all your folders to find information that could be recycled into your latest stories. Make sure you are using a powerful search engine that allows you to look inside every corner, including within assignments, stories, media folders, and contact books.  Additionally, you will need much more information that can only be obtained from outside your local database.
That is why it is important to leverage your newsroom technology to allow you to find everything in one place. To achieve this, you want to have all search engines, wires, social networks, and even email addresses available in your newsroom system when drafting a story. Centralizing your information outlets reduces the time spent during the investigation phase and allows you to do quick searches in case you missed any detail. 
4) 

A picture is worth a thousand words

 
Media 
According to scientists, the human brain processes images 60,000 times faster than text. As such, to make your stories shine in the human eye you must give life to words with videos, images, and other graphics. You want to work with technology capable of providing you direct access to your media. So, you are able to export videos directly from your editing software to storage and your newsroom system where your stories are located. Moreover, one of my favourite ways is is delegating some work to the machines. The use of Artificial Intelligence is growing in the broadcasting industry, and with good reason. Utilize AI to help you analyse videos using the speech to text function to have transcripts at hand, and the face and scene option to identify a person, place or object. 
5) 

Lightning-fast production 

 
News production 
Bad news travel fast. Luckily the same applies to good ones. Working as a journalist implies being able to adapt to the pace of information. Thus, it is vital to maximize the speed of news production. For this, you want to find on-screen and keyboard shortcuts that will facilitate creating, copying, modifying, or deleting an element. You may even personalize shortcuts to adapt to your current workflows. 
Moreover, you may also opt for bookmarking your most frequently visited places within your system. For example, if you know you will be working on one story the whole week, it is a clever idea to pin the story to the start to find it quicker. Similarly, to streamline story creation make sure you use templates. These can be used to easily create a story on the spot (in your rundown or planning section) by only pressing a button.  
6) 

Keep 

em

'

 posted 

 
Publishing  
For stories to impact, you need to make sure these are visible in a variety of platforms including your organization's website, social media, and linear television. Your newsroom system should allow you to connect the most popular social media sites Facebook, YouTube, and Twitter into the various phases of news production. Being able to publish news from your story or rundown directly on social media will help you reach more screens in a blink of an eye. And imagine how it helps with the breaking news.  
7) 

Tame your technology

 
Explore the options in your newsroom 
Overall, for quick story creation is vital to know what you have around you. Many users are afraid of exploring the buttons and features in their newsroom system. It is always useful to test the waters and get down to work. If you want to use your technology to the fullest. Take the opportunity to find the function of each button on your screen.  
Are you wondering where you can possibly do all this? Drum rolls please…… Octopus. No, not the animal! but the Newsroom system. With Octopus X you can achieve faster story production using these and many more tools. Its flexible user interface, collaborative planning options, notification system, quick story buttons, and advanced search capabilities will make the system work for you and not the other way around. 
Sincerely,  
Peter  
Newsroom Workflow Consultant at Octopus