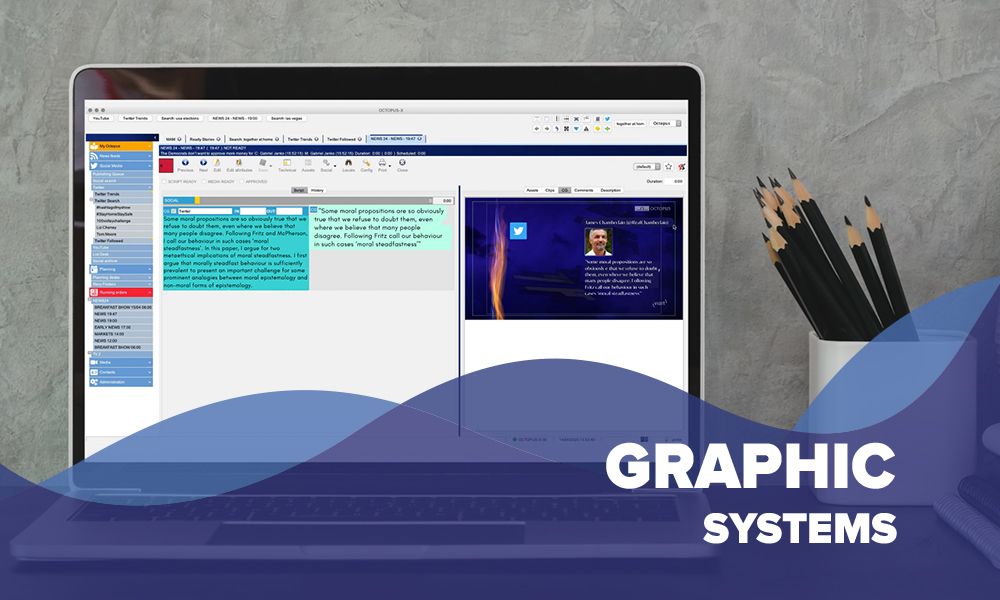 Observing the evolution of stories, we can identify an increase in the elements used to tell them. Today stories are packed with visual elements such as static and animated text and on-screen graphics. Whether a show needs to roll the news crawls, label an interviewee or a place, or attach animations or the channel's logo, graphic technology is a must in modern newsrooms. Our graphic techtacle connects Octopus NRCS with this technology to effortlessly transfer all graphical information to the screen.
Inside the newsrooms, various teams work together to get one story done. Journalist and editors prepare the scripts, technicians adjust camera positions, and graphics operators add on-screen visuals. Octopus script-to-screen approach glues all these processes in a single interface. While our second techtacle facilitates script creation, our graphic techtacle is in charge of adding and previewing graphics that provide additional information or context needed to better understand stories. This integration allows you to natively browse for and preview countless graphic elements from the main Octopus interface. Using these third-party technologies, graphic operators may design a graphic element and line it up in a list of templates inside Octopus to be used by other members of the team. Templates are designed to display a variety of graphics to be used for breaking news headlines and banners, lower thirds, OTS, or social media content.
Likewise, having a native HTML 5 support puts Octopus right on the front line of modern newsroom systems, enabling tight integration with partners' HTML5 based interfaces for graphics and automation.
Journalists may also use these templates when preparing a script. The so called "quick CG's" allow journalists to automatically add graphics to the script to display information such as names and designations of interviewees or show a relevant tweet or Facebook post. Running the graphic plugin in a separate window is not necessary. It is possible to natively add and preview the graphics within your rundown or story folders to review, as well as check for typos on the text, and make sure that the designation assigned to a person matches the channel's contact book.
Our third techtacle's integration with graphics systems also provides an easier way of generating news crawls or "tickers." Inside Octopus, it is possible to prepare the text for the graphics, preview the render of the graphic on the main interface, and send the final result to be broadcasted. In this way, Octopus centralizes this process by natively sending and receiving graphics input.
Graphics are not the only visual elements we can add to a story. Going back to our brain study, humans rapidly assimilate images. Our fourth techtacle offers our brains the pleasure to observe images and videos in stories through its connection with MAM systems.
Let's check out