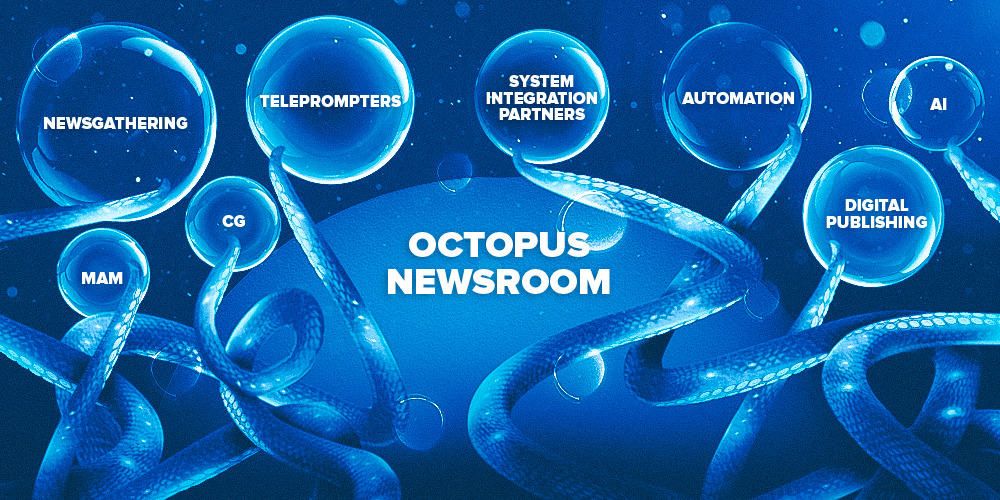 Why Octopus? 
We have been asked the meaning of the name "Octopus" many times. It wasn't exactly the animal that prompted us to name the company this way – although it had something to do with it. Yet, the idea of having 8 tentacles connected to a central system that handles distinct actions at once, for sure, was intriguing. This attribute seemed to be critical in the broadcasting industry in order to provide an organized and cohesive system to manage the entire news production cycle. This is when the name Octopus made sense. We wanted to offer a newsroom system that touches every single stage of this cycle. With 8 tentacles we are able to control all the way from the planning stage to the "on-air" moment. In the same way, our multiple hands enabled us to integrate with diverse technologies to power up this core system, and ultimately, produce a mind-blowing show. These integrations are what we refer to as our 8 TECHtacles – a combination of technology and tentacles.  
Now that the name makes sense, and you have grasped the pun in the word techtacles, join us in this series of 8 articles to find out more about how our teamwork with other news production tools help us make the most of your newsroom. 
Newsgathering  
Flexibility and intelligence were other attributes that attracted us to this mollusk. Indeed, we have developed a newsrooms system that allows genuine flexibility by integrating with a great number of technologies that further complete the broadcasting cycle. The first integrations tentacle in Octopus connects the central system with data outlets. Journalism 101 says that information and its sources are the basis of storytelling. Every minute of every day something newsworthy is happening somewhere in the world, for which we need to keep our eyes open. Our first tentacle is empowered to group extensive data outlets inside the system including wires, RSS feeds, social media, email addresses and iReporter to provide broadcasters with the intelligence needed to produce trustworthy stories.  
AP and Reuters are some of the news agencies that you can connect to your Octopus NRCS (Newsroom Computer System) to receive the freshest news from around the world, including written pieces and multimedia. You can also set up the news agency of your preference according to your location or content type. You can also centralize RSS feeds in your newsroom to help you keep track of many different websites in a single news aggregator to constantly monitor sites for fresh content, without having to check it manually.  
A digital-first world has expanded the uses of digital tools including the internet and social media. While the latter was mainly concerned with the delivery of a message, it has also become a primary source of information. Our first tentacle also provides integrations with social media platforms such as Twitter, Facebook, Instagram, and YouTube. Monitoring trends, catching up with up-to-the-minute news, and directly interacting with public figures and end-users are valuable assets that only social media can offer to a journalist. What better than to have these networks connected to your core newsroom system. Other digital tools can also be used as sources of information. The inboxes of email addresses may be imported and displayed in the Octopus interface. Using this integration, it is possible to gather data such as press releases from national ministries or invites to press conference that are relevant to the subject in question. 
iReporter is another ace up Octopus' sleeve. This app empowers audiences to create multimedia content. It is sometimes impossible for a traditional camera crew to cover unexpected events including traffic accidents or natural disasters. For those instances where no traditional coverage is possible, you can ask for help from stringers around those situations to provide the footage you need for your story. 
Now that you have been enlightened about your story topic, the next step is to find your flow for narration. Let's check out how Octopus can lend you a tentacle when creating a script. 
Check out the next article!