The imperfect storm of rising inflation, low wages for many journalists, and the "new normal" of a world recovering from the pandemic has prompted a new trend of working from home (WFH) or hybrid work models. In 2020, Local broadcasters had to figure out WFH models quickly and strategically for presenting the news.  
Now, the masterminds at Octopus Newsroom have generated a flexible and easy model to accommodate any WFH or hybrid work environment that's affordable and efficient.  
REMOTE ACCESS
Deployed on-premises or in the cloud, Octopus NRCS enables news production from anywhere. The all-compassing features of Octopus 11 NRCS allow stations to collaborate, produce rundowns, create scripts, share videos, and post to social media in one system. One window open is creating a window to a world once never thought possible.  
There is no longer a need to schedule who's going to be working at home or who needs to be at the station. The seamless process of Octopus NRCS adapts to new workflows, empowering users to produce, direct, and host entire shows and newscasts remotely. From couch to customer, the innovative Octopus NRCS is the "new normal."  
Its script-to-screen approach expands outside of a newsroom. Journalists and producers can continue their regular activities uninterruptedly as Octopus grants remote access to information. Octopus 11 provides users tools to masterfully command their news production from their sources, coverage plan, story scripts, rundowns.  
REMOTE CONTROL
The Octopus 11 team believes in a custom-tailored system that meets your needs, not a cookie-cutter design. You control the user or group setting – your choice – to give permission to collaborators.  
This low-risk option keeps everyone on task without distractions or mistakes. The content planners can focus on the planning and contacts while the producers focus on the story-based or rundown-based production. Each independent journalist can get the permissions only needed for their line of work. 
REMOTE TEAMWORK
During the advent of social distancing and remote workplaces, technology worked while collaboration suffered. A smooth process requires the ability to connect with colleagues near and far under pressure and ahead of deadlines.   
Octopus 11 was specifically built with collaboration and communication as a top priority for all sectors of the content gathering and presenting process. Every manager, producer, anchor, reporter, photographer, director, and meteorologist can be tied through one manageable system that can be easily tailored to your specific needs.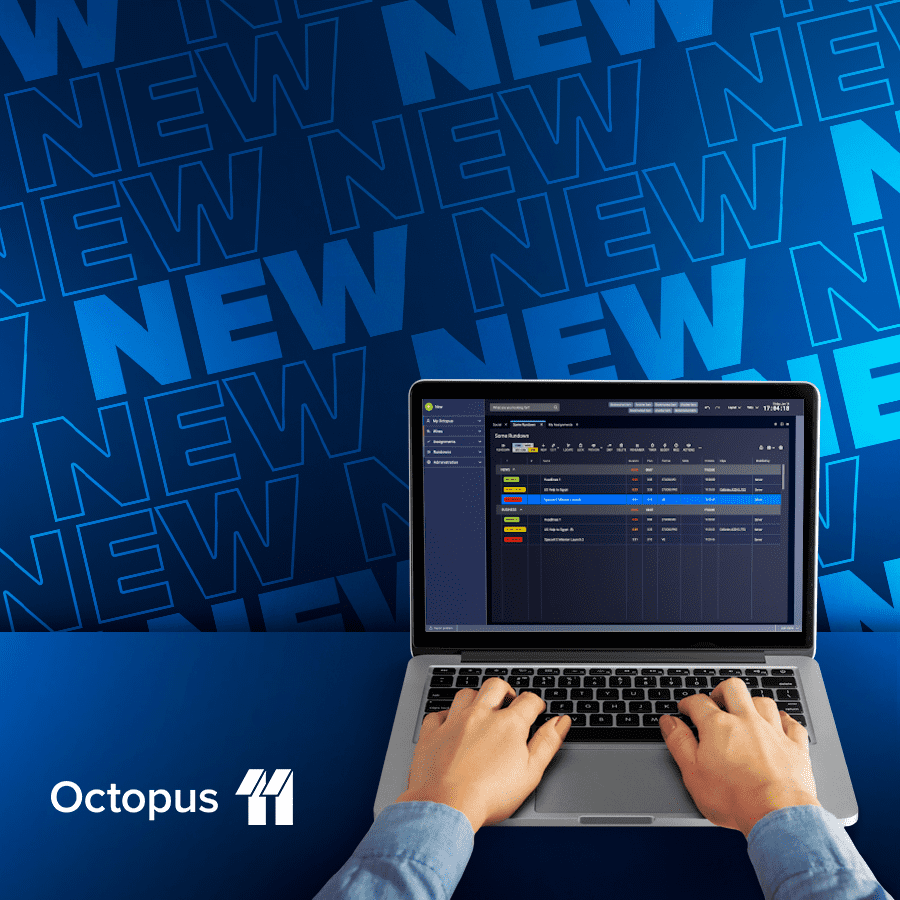 CONTENT CREATION
The collaborative planning and script features allow journalists to access, plan, create, and edit content remotely while allowing full collaboration. You may be working on the script while a co-worker is updating visuals for a story, and another colleague is organizing all production cues. You can attach images and clips, write comments for your colleagues, and set deadlines for the stories. 
Users can post real-time or scheduled posts to various social media platforms while sending scripts to the Content Management System, enhancing the digital workflow in ways never imagined. Whether you work on a laptop, desktop, tablet, or mobile device, you're always connected to your colleagues with Octopus 11.  
Customized alerts for staff, working groups, and individual users make sure you never miss a beat or a breaking news story. Users can create settings where they will be able to know exactly when valuable data from wires is received, if their organization has been mentioned in an important social media post, or if the editor-in-chief has assigned them a new piece to work on. 
SECURITY OF ASSETS
Octopus products adapt to broadcasters' corporate security policies, offering encrypted client-server communication with an additional security elevation using certificates for the highest security levels. Octopus uses industry standard SSL/TLS Protocols and Cipher Suites for high security information exchange between server and client. On top of that every request needs to be authorized. Octopus is also using sophisticated protection from Java vulnerabilities and always keeps it up to date.
The field crews have control and communication in the palm of their hands. Octopus Journalist App is the key for remote production. Users can make changes and updates in real-time from mobile devices.  This tool aims to extend users' experience in the field.
Using the app through any mobile device, journalists may access remotely all they need that they may otherwise access on-premises, including wires, rundowns, and planning items. Importantly, users can edit existing rundown scripts or create new stories on their mobile phones. They can contribute images and videos directly from your phone. 
Toss printed scripts aside for a remote teleprompter. When covering news on the field or live shots, they may activate the prompter mode in the app to read the script to the camera as if they were using a traditional teleprompter. For smooth coverage, the auto-scrolling option ensures that the text flows according to the reporter's reading speed.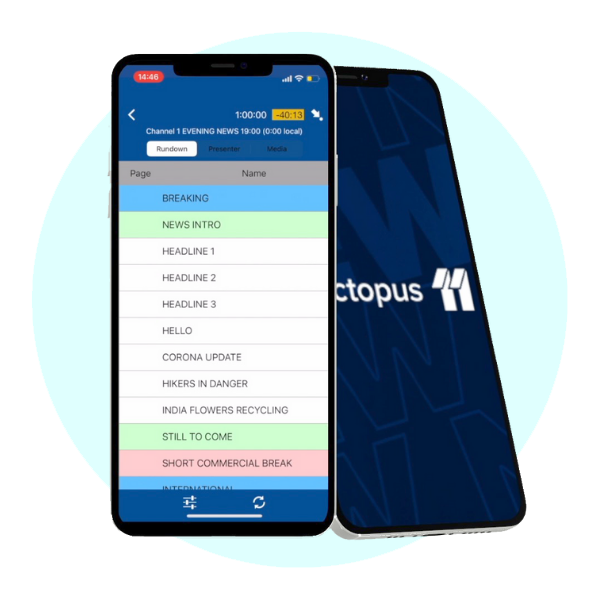 OTHER OCTOPUS CLOUD-BASED SOLUTIONS
The innovative Octopus team is always making advancements based on customer feedback and industry trends.  
The unveiling of iReporter is an unprecedented tool for User-Generated Content (UGC) to bring you content from your fans, followers, viewers, or listeners. It's also a tool that is a game-changer for journalists in the field.  
KO:R is a system built solely on collaboration concepts and offers a multi-channel and multi-team approach to collaboration on a necessary level for today's remote and hybrid workforces. 
START COLLABORATING TODAY
The Octopus team is ready to show you all the benefits of cloud-based remote work options that will best suit your individual newsroom or programming needs. Our systems are cohesive to flow with any playout, graphics, or editing system. We already work with some of the best and most reliable brands in the business. Contact us today for a live demo of our products.