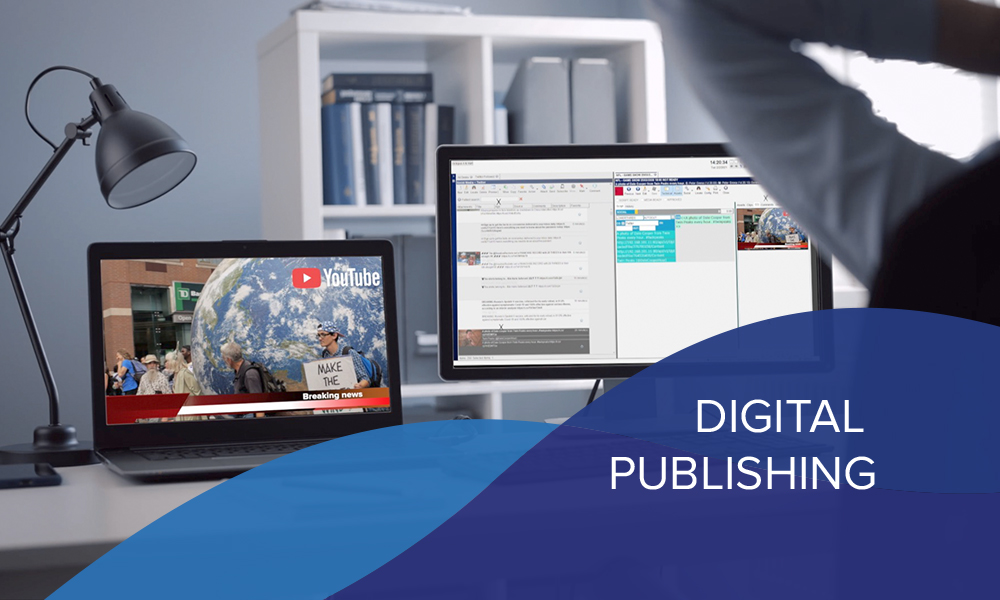 The idea that the mobile phone is now part of the human nervous system, is sure intriguing. Daily, internet access rates, the number of social media and smartphones users, and the amount of information circulating on the internet swells. Digital trends in the broadcasting market respond to these numbers and urge publishers to adapt their human and technical resources to modern forms of news consumption. Newsrooms and networks are now looking to increase reachability and user engagement by combining linear and digital broadcasting strategies. Octopus techtacles offer integration with social media and CMS systems to power digital publishing and leverage social networks usage. 
The onset of COVID-19 exacerbated many of the long-term digital trends in news consumption that have been documented in previous decades. A more digital and mobile media environment has transformed digital presence from an ambitious step to a mandatory step to assure survival. Although television, radio, and print publications continue being highly-consumed news outlets, Facebook, Twitter and YouTube stand out as regular sources of news. Social networks make the news experience more interactive as users can find, read, watch, share, or discuss news. Users' preference for this experience is displayed in the rising number of consumers of digital content and digital subscriptions to news outlets, and the engagement of younger audiences. Similarly, social networks are not the only sources of digital news. News websites are gaining ground among people that prefer to read and watch stories digitally.
Broadcasters are looking to implement a digital strategy for their newscast, what better than to have the option to digitalize information from their newsroom. Octopus techtacles offer integrations with social media and CMS systems to achieve the desired digital transformation. Inside Octopus, social media is given dual use. As a source of information, journalists can centralize Twitter trends and posts and Youtube videos as incoming sources. Digital newsfeed can be accessed directly from the Octopus UI and be used to draft stories. Using these integrations, journalists can monitor trends and mentions by setting notifications, catch up-to-the-minute news, and directly interact with public figures and end-users. Likewise, social media content can be transferred to the screen to accompany stories on-air. As a digital publishing platform, journalists can post content to digital outlets including Twitter, Youtube and Facebook, and CMS systems. On a story-centric workflow, users can create posts to be part of a story. Inside their stories, journalists can draft a post and include attachments or link posts, set approval status, and schedule publishing, post it directly to social networks such as Facebook, Twitter and YouTube, or even unpublish it. The same workflows are available for digital publishing on websites, Octopus integrates with CMS systems such as WordPress, Joomla, CoreMedia, and Frankly. Publishing features also allow the team to collaborate as fields for notes and feedback are available when drafting posts. 
Our 7 techtacles empower newsrooms to work outstandingly in all kinds of media environments. Yet our last techtacles help us to take Octopus to another level. Check out the last article of this series to learn how our system integration partners glue all of this together to offer you an out-of-this-world news experience. 
Teamwork is always better!