Our 8

TECHtacles

: Octopus' integrations
Our techtacles empower newsrooms to work outstandingly in all kinds of media environments. They not only integrate with third–party technologies to perform different production tasks but find the best partners to streamline the process of implementing a newsroom system. Octopus enables customers to work directly with the Octopus team or collaborate with one of its local partners to assist them in all stages of the system's deployment and its integration with partner technologies.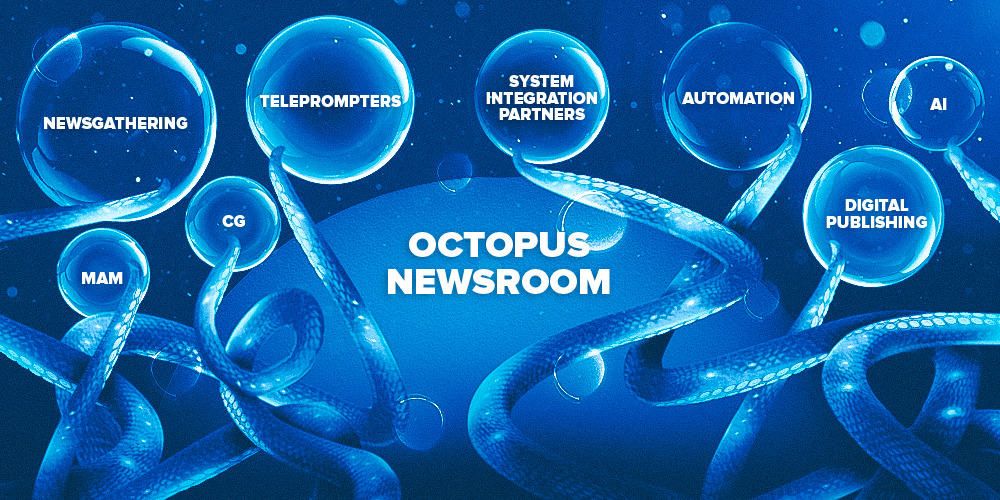 Customers can engage with Octopus directly to communicate needs and vision for their newsrooms to in-house teams as the first choice. Octopus sales, developers, trainers, and support teams have a two-decade focus on newsroom systems, licensing them to identify solutions for end-to-end production of news and entertainment for a variety of broadcasting demands.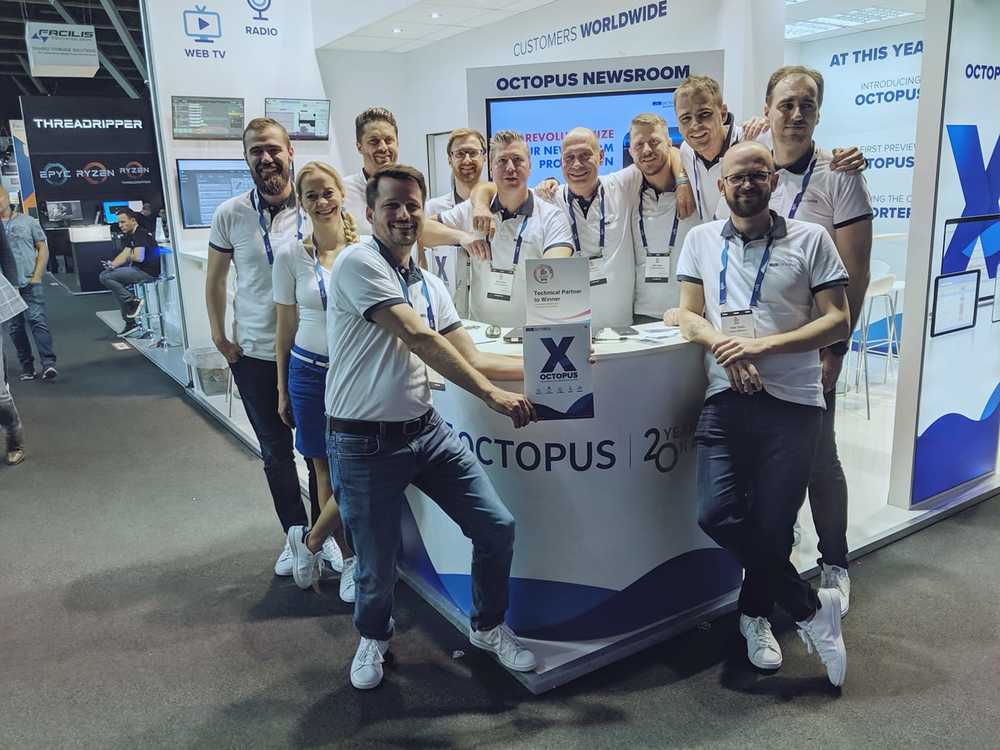 Regional sales teams lead clients to the modules that best meet their needs and anticipated growth and work alongside highly specialized developers and project managers to tailor the system to the identity and expectations of each newsroom and to ensure that customers' specifications are truly met. Similarly, workflow design is supported by experienced journalists and broadcast and media industry connoisseurs who provide consultancy on how to improve newsroom habits and operations. Training is also adapted to the needs of the customer, as the team conducts on-site and virtual sessions and tailors training content to the preferred workflows. All stages, until the customer is fully adapted to the Octopus system, are overseen by responsive support teams that address customers' concerns and technical issues. Likewise, customers have a direct link with vendors of partner technologies which prompts straightforward communication for special demands and tailored workflow needs.
Additionally, Octopus techtacles collaborate with local partners to help customers understand newsroom needs and find production technology that can seamlessly integrate with their broadcasting activities. Local system integrators offer different skillsets and services to guide customers to target production workflows and find the right technology to realize them. These not only help broadcasters to spell out their needs and draft workflows but channel communication with Octopus and other vendors to achieve a full understanding of their demands and to guarantee that all stages in the project delivery are carried out on time.  
According to their expertise in broadcasting projects and technology, they provide roadmaps and mediate the broadcast set-up processes by providing consultancy regarding newsroom design (technology and studio), workflow optimization, and resource management. Acting as project managers, integrators lead negotiation, procurement, installation, testing, integration, and training stages. In this process, local partners also guide the client through options for technologies such as – but not limited to – teleprompters, MAM systems, or playout systems that can level up Octopus' production capabilities and can deliver unique workflows. Deploying Octopus through these partners ensures that all stages of its implementation are tailored to the customers' specifications and ensures technology efficiency and uninterrupted workflows. Remarkably, during the Covid-19 health emergency, local system integrators have enabled Octopus to deploy its newsroom system swimmingly despite travel restrictions, being able to deliver on-site assistance to customers and other remote services.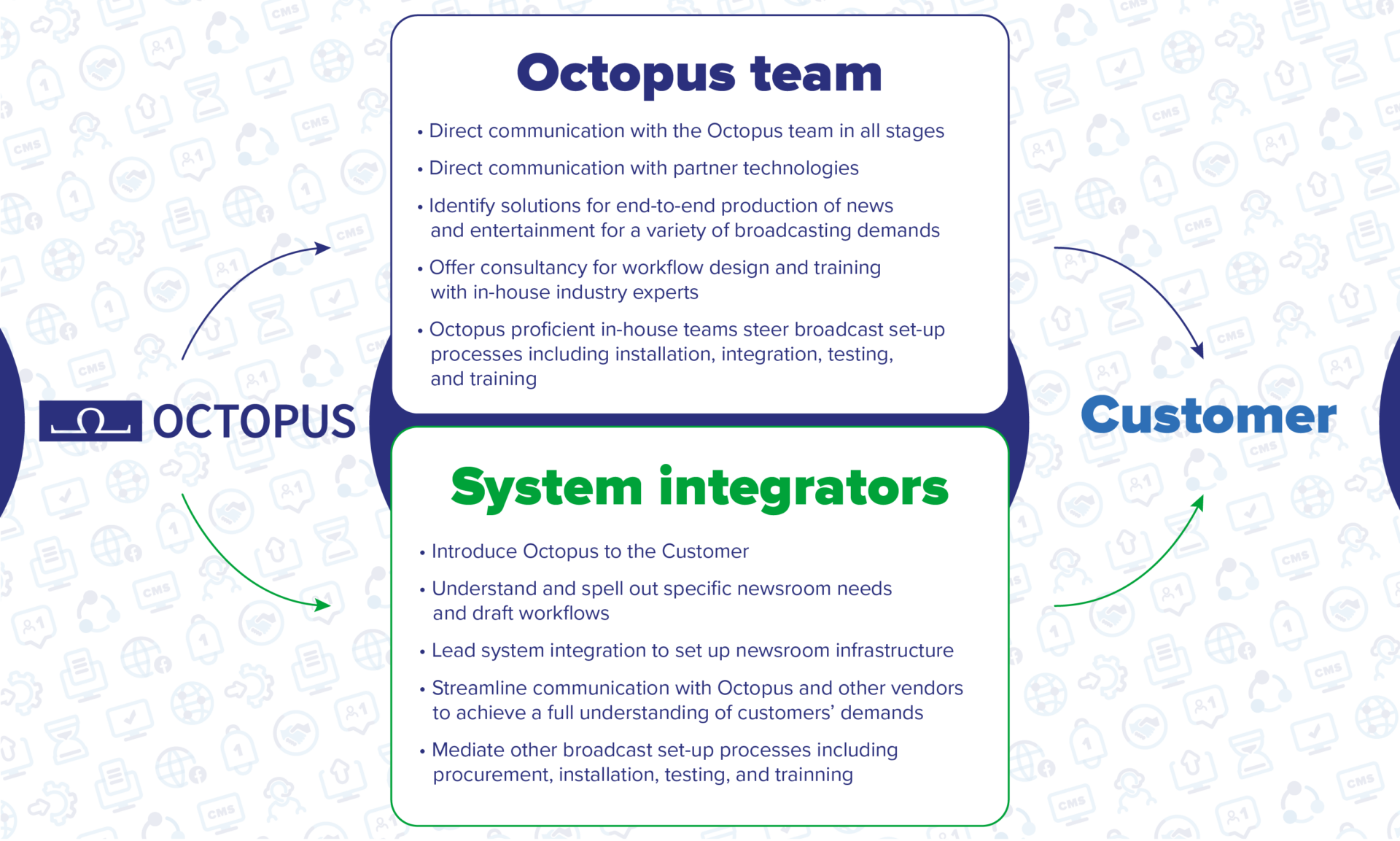 We are truly grateful to work with various system integrators from around the world that specialize in region and customer relevant needs. Together we fulfil the commitment of delivering the best broadcasting environment.  
"Octopus, in our perspective, has two main verticals – products and people. Their focus on technology and innovation reflected in their products and features perfectly matches our approach and guarantees that together we offer the best to our customers. Likewise, our long-term partnership with their team of engineers, project managers, and sales representatives is an ethos of our successful cooperation that has delivered more than 50 projects around the region. While implementing complex projects in special situations – Octopus proves to be a great partner to rely on and makes the extra efforts count. Our 20-year engagement with Octopus as a system integrator has been a rewarding experience that we want to continue."
"Working with Octopus is always fun. There are very few companies with whom you have such a professional but also friend-like relationship. The people at Octopus are not only skilled and competent but also caring and fun to work with. Together we have gone through many ups and downs in the past years, and I am always impressed how easily, and constructively even difficult problems are being solved. Looking back on 15 years of partnership between LOGIC and Octopus, we can still say that we are fully convinced of the products, the people, and Octopus as a company."
Both these alternatives are designed to offer customers an effective way of setting up their organizations' workflows and infrastructure that can be used to achieve their own goals. Either way, Octopus is committed to providing a cutting-edge newsroom system that adapts to plenty of environments and can be integrated with numerous third-party technologies to bring unique production capabilities ensuring quality, cost-efficiency and freshness for newsrooms.